The newly formed 'Team Dave' - Cycling team has officially entered it's first mega challenge.....The wiggle Cheshire Cat 100 mile sportive in March 2012. This looks a pretty daunting track and includes the 'Killer Mile'..a mile long climb up Mow Cop culminating in a 100 metre 25% ultra-climb at the peak by the Cheshire View pub (an old drinking location of mine strangely). This climb is so steep a medal is awarded if you complete it without stopping or putting your foot down - now that's a challenge to go for! Certainly Andy 'Everest' Hall will be in his element as he no doubt effortlessly powers to the summit in the big cog leaving us mere mortals (Iron-man Haynes aside) to probably run out of gears at the 10 meter point!!
The terrain looks a tough run for sure, both in terms of distance - the 100 miles challenging the proverbial bits n pieces around the saddle region, and also on the legs - the initial 40 miles of climbing looks a monster and includes:-
Mow Cop 'Killer Mile', 15.5 miles in - 1.2 miles ascent x 618ft at
Blacky Bank & Bridestones, 21 miles in - 1.7 miles ascent x 594ft
Gun Hill, 31 miles in - 1.3 miles ascent x 470ft
Barlow Hill, 35.5 miles in - 1.3 miles ascent x 506ft
Barnhill, 71.5 miles in - 1.5 miles ascent x 370ft
Cheshire Cat terrain - Note the first 40 miles!!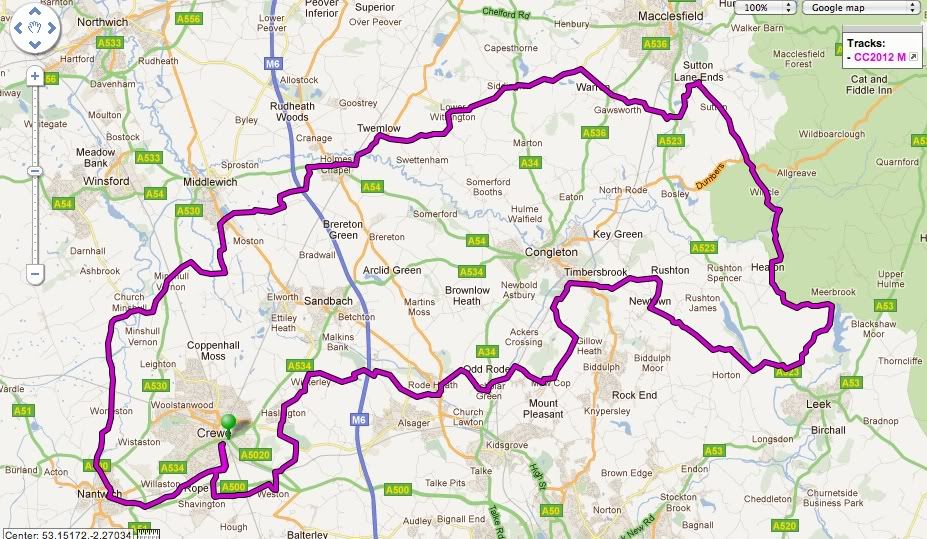 The Route - Starts at Crew stadium then reaches out into Peak District toward Buxton
See the full route at
http://www.kilotogo.com/libs/google_map.php?distance_id=76
Training Regime
Probably the biggest challenge will be sticking to the recommended training regime in preparation during the dark and miserable UK winter period. Although so far training has gone pretty well with fitness levels growing, the legs getting stronger and most importantly the waistline reducing (!). Distances of 30-40miles of hilly terrain are now being consumed at 16.5-17.5mph average reasonably comfortably and Team Dave has acquired some pretty top notch biking kit which makes a world of difference. However, to be in full fighting trim some serious hill climbing training will certainly be required to combat the first 40 miles and critically, win the Killer Mile medal!
The recommended plan is to ramp up towards 4 rides per week, 2 of which are at 70% (i.e. 70 miles!) prior to the event in early March which inevitably means some some pretty unpleasant cold and grim outings versus whimping out with a mince pie to watch The Dave channel by the log fire! As a back up an investment in a Turbo Trainer is required when the temperatures starts to hit -0 degrees C.
Anyway. Watch this space for periodic updates on Team Dave's progress towards its first 'major' in March - Bring it on....
Cheers
Steve 'Peleton' Long